Leading Welsh housing association Pobl Group recently moved into new purpose-built offices in Swansea, having outgrown their previous premises on the city's Kingsway.
PAI was initially contacted by the inhouse Project Manager to discuss the de-install and reinstallation of their existing audio-visual equipment at Epona House on Phoenix Way, along with providing proposals to enhance the sound quality in remote meetings.
Even before the COVID-19 pandemic arrived, Pobl Group were already exploring and implementing remote working to reduce the need for commuting and travelling between offices and sites. However, frequent complaints regarding poor audio during remote meetings meant this was something that urgently needed to be addressed.
Following the initial project briefing, PAI arranged and conducted a demonstration with Biamp's beam-steering microphone solutions. Pobl Group staff were suitably impressed and full of praise during the test calls that were carried out.
The AV project for Epona House – a 20,000-square foot building – included equipping numerous large and small meeting rooms, working in collaboration with Cardiff-based office fit out company Paramount Interiors. These spaces required the usual complement of audio-visual equipment such as multimedia projection and large format displays, along with control systems, audio reinforcement and the beam-steering microphones previously demoed.
Existing projectors from Pobl Group's former Kingsway offices were paired with new projection screens. Other areas received new LG commercial LFDs, with Extron products utilised to manage user control of the core AV components.
The larger meeting rooms benefit from the installation of a Biamp Tesira central server digital sound processor (DSP). This is connected to Pobl Group's own network and was fitted with several input/output cards to cater for the sheer quantity of microphones and necessary audio sources.
Parlé TCM-XA low-profile beamtracking ceiling microphones were used in the large meeting rooms and boardroom. With Extron control systems throughout, room users can simply select a configuration for presentation, video conference or audio conference upon entering the space, with each option pre-programmed.
Smaller meeting rooms feature self-contained Biamp Devio systems, with table mounted beamtracking microphones providing superb audio pickup. Onboard HDMI connectivity to the room displays has resulted in a very simple user experience, with Pobl employees able to share content from their portable device to the screen in a matter of seconds, with no prior setting up necessary.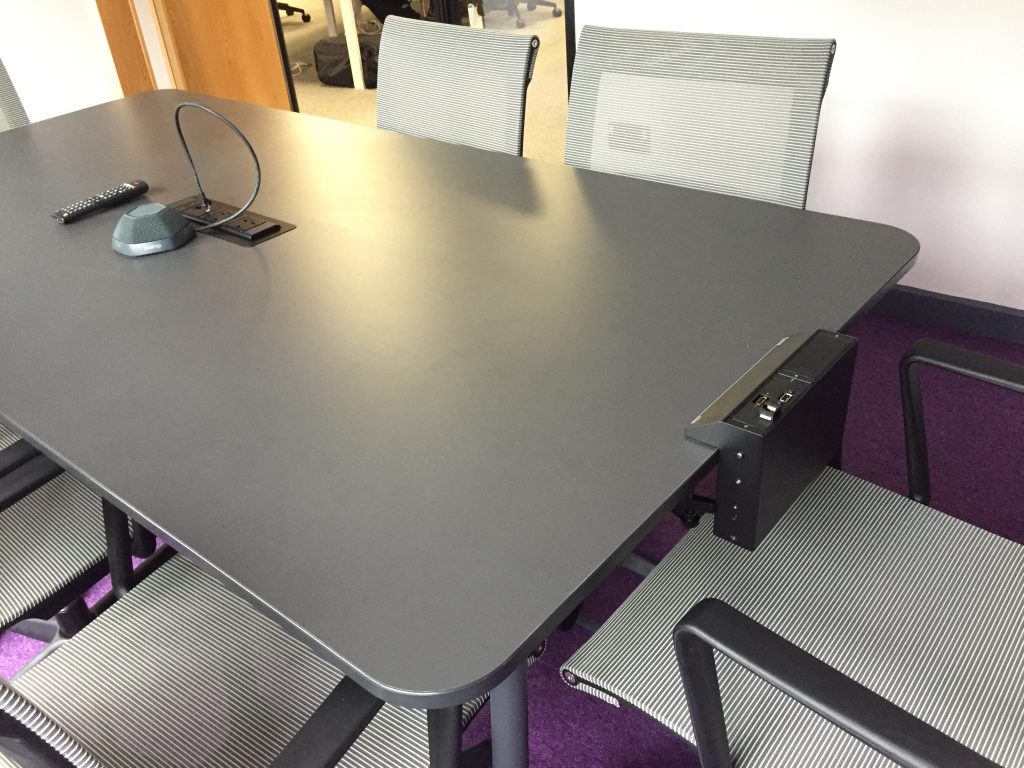 For the live streaming and conferencing, PAI selected high quality Avonic 4K cameras, with the fixed install, single-wire devices offering exceptional AV production quality.
Further sound reinforcement is delivered through the use of discrete, aesthetic loudspeakers from Cornered Audio, which feature a 90-degree triangular design.
The new equipment and the installation at Pobl's new headquarters were very well received and proved to be another highly successful collaboration between PAI and a corporate client's IT department.
Our teams worked in harmony to provide audio-visual enhancements that will significantly improve remote meetings, live streaming and videoconferencing, while completely alleviating the audio issues previously experienced.