PAI has returned to The Beacon Centre in Llanelli, after being tasked with enhancing the video conferencing system and display solutions previously installed to the Conference Room.
In 2016, PAI supplied and fitted a Samsung ultra slim bezel 2×2 videowall, combined with a Polycom video conference system and scaling presentation switcher. BYOD (Bring Your Own Device) wireless connectivity was provided, along with Revolabs HD microphones for portable convenience and superior sound quality during meetings and presentations. The system is managed via an intuitive Crestron control system with a custom branded graphical user interface (GUI).
The VC system was very well received and PAI later carried out Planned Preventative Maintenance (PPM) to ensure all components continue to operate at optimum performance.
However, while the system is all relatively new and has only been in situ for a few years, the COVID-19 pandemic brought about significant changes in the way the room was to be used, with a new focus on online meetings and remote conferences due to most participants working from home.
While the existing equipment could cater for this and provided a working solution for the change of use, it was felt that the system needed to be upgraded to offer an improved AV experience for remote users.
PAI was therefore asked to propose advancements, basing our advisories around the change of use and carefully considering the common complaints and issues identified by users of the existing system.
The Beacon Centre, which is owned and managed by Carmarthenshire County Council, needed to switch to the use of Microsoft Teams, allowing easy remote access for participants via desktops, laptops and mobile devices. Users also requested a change of display from a 2×2 videowall, with the bezels a distraction during Teams calls.
Far-end meeting participants also identified that they could not hear the presenter and others in the room clearly, especially with social distancing measures in place. The previous microphones were designed for use around a conference table (which had since been removed) and were subsequently no longer fit for purpose.
PAI's audio-visual needs analysis set out multiple cost-effective recommendations. Firstly, the 2×2 videowall was replaced by a 98" 4K high brightness commercial display.
The microphones were swapped out for Biamp's beam steering and beam tracking ranges, enabling superb audio pickup wherever in the room the speaker is positioned. The introduction of a USB bridge allows for a simple, single cable connection to the system.
The Crestron controller was also reprogrammed to adopt the new equipment, with easy system management via the iPad touchscreen interface.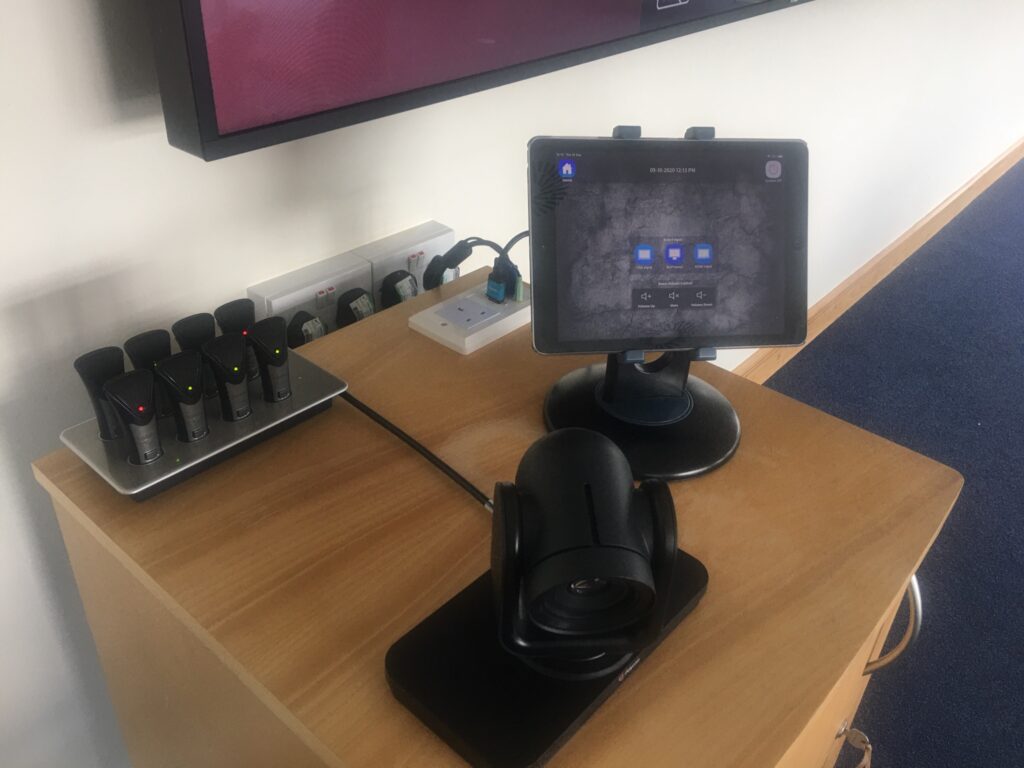 Now remote meetings require minimum set-up and connectivity when multiple devices of different types are brought in, numerous participants can be shown on screen without the interference of bezels, and everyone can be heard clearly.
The older equipment will be deployed elsewhere and repurposed into the adjoining meeting room spaces, ensuring that the client can continue to benefit from the capital investment in this technology.
Do you have a similar requirement for video conferencing system upgrades? Do you want to enhance your AV experience and enable staff to efficiently communicate with your office remotely?
Simply contact us today and let us know your requirements. We're on hand to assist you in improving the audio-visual technology in your workplace – making meetings and presentations more efficient, ultimately saving your company time and money.